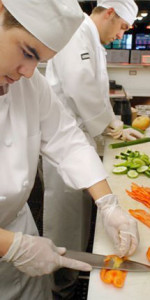 Food Service Products – In Stock and Ready to Ship
Wherever there is a food preparation operation – be it a hospital, school, restaurant, hotel, kiosk or even meals on wheels – there's a need for top-quality, yet affordable, supplies and equipment.
Reliable Redistribution Resource (R3) has the products, knowledge and expertise to make sure you have the right item for whatever your customer needs. With thousands of items from hundreds of manufacturers in stock, you can be confident when your customers demand it, R3 will have it! Why not check out what kinds of products are available to you through our Foodservice Catalog. You may view an interactive catalog featuring our full line of R3 products, or download just the Foodservice section as a PDF from the link below. You may also view our other specialty catalogs or download the available PDFs.