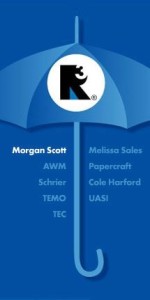 The Morgan Scott Story
Morgan Scott began as The Morgan Paper Company which commenced operations in 1954 as a distributor of paper products to the butcher, baker and deli trade in Toronto. In 1977, Bill O'Brien and Bob Giroux acquired the business and expanded it through internal growth and acquisitions.
Distribution services expanded into Eastern Ontario in 1986 with the acquisition of Canway Paper & Sanitation of Kingston. As a result, Morgan Scott started developing qualified, best service and product offerings in the janitorial and sanitation markets with branches in Whitby, Kingston and Cornwall. The acquisition of Kebarco Paper in 1989 and J&C Scott Brothers in 1990 created opportunities to develop a third market segment through distribution of Scott Paper Towel and Tissue.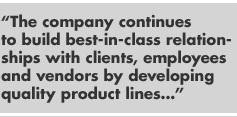 With national coverage a priority to the company, Morgan Scott services all of Ontario from its 67,000 square foot facility in Mississauga, Ontario, and its 20,000 square foot facility in Kingston. Western Canada and Quebec are maintained through Balpex partners. Founded in 1973, Balpex Inc. is one of Canada's leading associations of independent paper merchants who work collectively as a purchasing, sales and marketing group to ensure clients innovative products and competitive pricing.
As a solution-provider with an eye toward innovation, Morgan Scott's enhanced services include full web-enabled online ordering, onsite technical staff, and a full inventory of products and repair parts. The company continues to build best-in-class relationships with clients, employees and vendors by developing quality product lines including Butchers, Pioneer Eclipse, 3M, Marino and North American Cleaning Equipment.
Morgan Scott Kingston has assembled a team of highly skilled sales associates and best-in-class workplace trainers who service industrial, institutional and property management markets. Morgan Scott became a Dustbane distributor in 1996 with the acquisition of D.L. Smith Sanitation. Several years later the Cornwall operation was consolidated into Kingston. One of Morgan Scott's specialized areas is sales and service of all cleaning equipment; the company has two full-time mechanics on staff along with a full inventory of repair parts.
Dedicated to distinction, Morgan Scott's workforce diversity and supportive workplace reflects equitable male and female roles in sales and on the executive level. A recent Catalyst study (January 26, 2004) supports the link between gender diversity and higher performance – good news for Morgan Scott as the company carries its vision of profitable growth through exceptional distribution services into the future.
Today, Morgan Scott's mission is to achieve unsurpassed performance with dedicated clients, employees and vendors by recognizing and rewarding results. We focus on four main market segments: Food Service, Commercial, National Accounts and Redistribution. Morgan Scott joined the R3 Reliable Redistribution Resource Team in January 2006.