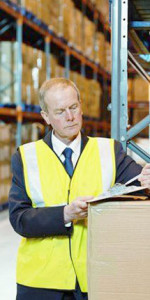 Redistribution FAQs
Q: What is the role of Reliable Redistribution Resource (R3) in the market?
---
A: Just about every distributor and manufacturer in the foodservice, janitorial-sanitary supply, industrial, medical-surgical and safety markets is looking for ways to reduce supply chain costs. Our role is to assist you in getting the right products to your customers in a cost-effective manner.
Q: How does R3 reduce supply chain management costs?
---
A: We work with manufacturers who are facing tremendous market pressures to increase service when logistical costs are rising. Manufacturers see that when they use R3, their ability to service the various segments of the market significantly improves.
R3 acts as an extension of the manufacturers' distribution divisions. They take advantage of our expertise and experience in moving less than truckload size orders through the supply chain, allowing them to better serve their diverse customer bases.
We also help distributors like you reduce your costs by making available products from multiple vendors through a single source. In other words, R3 is your One Stop Shop. By working with R3 you can handle more manageable quantities (what you need) at a scheduled delivery time (when you need it), thus simplifying your administrative costs associated with receiving, purchasing and payables.
Q: Won't buying from R3 hurt my relationships with the manufacturers?
---
A: No. Because R3 knows the importance of communication between manufacturers and distributors, we do everything we can to foster and support your relationships. Additionally, you can rely on R3 for the high levels of support, training and commitment your business demands.
Q: What does R3 offer me?
---
A: We offer you a highly trained team that can give your sales force in-depth training and bring you new vendors or product opportunities. Further, you can take advantage of our expertise in various areas of your operations like inventory, purchasing or distribution. We'll be glad to share what we've learned. You also get reliable, scheduled deliveries, above average fill rates on your orders and consistency in invoicing, as well as helpful, knowledgeable customer service representatives who can answer questions and get things done.
There are thousands of products available to you, and product information is easily obtained by using our print, compact disc or e-catalogs. Plus, promotions and marketing support offer you that extra boost in today's competitive market. In short, R3 gives you efficient, increased access to more products and the ability to grow your business without increasing your investment in assets. This allows you to give your customers better service.
Q: How does R3 help me grow without increasing my investment in assets?
---
A: Underneath the purchase price of a case of goods are "submerged" costs like the investment in inventory needed to meet factory minimums, the cost to finance that inventory and the damage you can sustain to the inventory. In addition, you'll often face shrinkage, the cost of all the warehouse space these large inventories take up, the dollars paid to receive and put away these large shipments, not to mention the costs associated with creating all those purchase orders and having to pay all those multiple invoices.
R3 can help you manage these costs because when you reduce all your acquisition costs – the amount of inventory on hand, fewer deliveries to schedule and a reduction in paperwork – there is a positive impact on your bottom line. R3 improves your supply chain efficiency by making more products available to you, giving you the ability to increase your market share and build your revenue, thus achieving a profitable business. You reduce your capital employment by lowering your inventory levels, freeing up warehouse space for other products and increasing your cash flow.
Q: In Canada's Ontario province, what is R3's policy on the Accessibility Standards for Customer Service?

---
A: Customers/vendors can inquire with
R3, Inc.
Regional Human Resources Department
2130 South Service Road
W. Oakville, Ontario L6l 5N1
905-827-7300
feedback@bunzlcanada.ca<mailto:feedback@bunzlcanada.ca