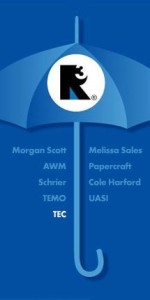 TEC Products – Cleaning and Paint Supplies to the Trade Since 1910
It was 1910 when Nathan Holtzman opened General Broom Works (a manufacturer of cornbrooms) in Brooklyn, New York. Six years later Nathan's son Jacob joined the company and his brother Alex followed shortly thereafter.
The successful business grew quickly, forcing the Holtzman team to move to larger facilities on a constant basis until 1940 when they relocated to Jersey City, New Jersey. It was here that Jacob expanded General Broom Works' product offerings to include brushes and mops and introduced the company to the wholesale distribution trade. The company quickly developed its philosophy of supplying this market segment exclusively.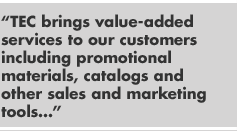 The third generation of Holtzman (Bob) joined the company in 1946 and it was through his outside sales efforts General Broom Works expanded more deeply into the hardware, housewares and paper janitorial distribution channels. This led to Jacob and Bob acquiring TEC (To Encourage Cleaning) Products Company, Inc. in 1951 and gave them a sales company with a comprehensive line of cleaning products and equipment, making them a true full line source of supply. By 1970, under Bob's leadership, General Broom Works became an operational division of TEC Products Co, Inc.
David Holtzman became the fourth generation to join the company in the mid-1970s, and under his direction TEC moved into paper and allied products to complement its line of janitorial products. Within ten years, David was able to purchase the company from his father, expand the business and move it to its current home facility in Carteret, New Jersey. TEC Products joined the R3 Reliable Redistribution Resource team in 2006.
TEC Products supplies products exclusively to the distributor trade; they do no end user business of any kind. TEC brings value-added services to our customers including promotional materials, catalogs and other sales and marketing tools including "Pull Through" sales and national brand promotions. Our extensive product selection and above average fill rates allows you to use TEC as an extension of the factory and YOUR warehouse. TEC is a full service company providing the complete distribution program for the manufacturer and the distributor, from warehousing to marketing and selling.