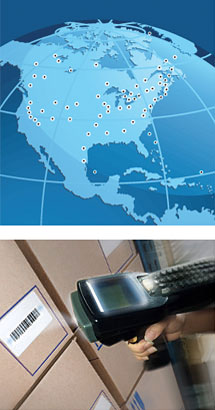 Prime Source® Relaunches Expanded Disposable Glove Line Now Available at R3
Prime Source has relaunched its longstanding line of disposable gloves with a wider range of products in a newly branded system that helps users choose the right glove for the job. Prime Source disposable gloves offer high-quality hand hygiene and protection for distributors in the foodservice and janitorial/sanitation industries.
Now Prime Source disposable gloves are available in three product tiers organized by popular specifications: BASICS for value-oriented needs, SELECT for everyday needs, and ULTRA with feature-rich options for special needs. These three tiers include 138 products in an assortment of six materials: poly (cast and blown) hybrid poly, vinyl, synthetic vinyl, nitrile and latex. The hybrid poly gloves are new to the Prime Source line. Prime Source disposable gloves are suited for a variety of food preparation and cleaning tasks.
"We rebranded our Prime Source disposable glove line to help our customers make smarter, faster purchasing decisions," said Prime Source Director, Brand Management Brian Sangston. "With our three new product tiers, they can easily select a glove material and weight to suit their application and budget."
Additionally, the new Prime Source disposable glove packaging features a simplified design with an updated Prime Source logo and a signature color for each glove material. Standardized product name placement and larger glove size identification make it quicker for users to select the proper glove in the workplace.
Prime Source disposable gloves are available to distributors serving the foodservice and jan/san industries exclusively through R3 Reliable Redistribution Resource. R3 delivers from its network of over 170 distribution centers throughout North America via more than 600 private-fleet delivery vehicles. More than 400 R3 sales professionals know the complete Prime Source disposable glove system and are ready to help operators select the optimal gloving solution.
For more information on the refreshed Prime Source disposable glove line, visit http://www.catalogsuppliers.com/books/besw or contact your local R3 representative. To reach your nearest Prime Source stocking location, call R3 at 866-987-R3R3 (7373).