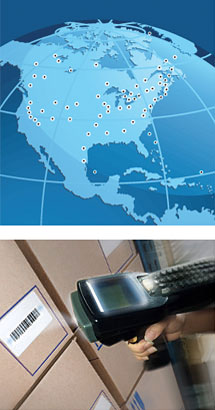 R3® Reliable Redistribution Resource Joins IFDA
Will Share Best Practices with Foodservice Customers, Industry Partners
ST. LOUIS, July 23, 2013 – R3 Reliable Redistribution Resource® recently joined the International Foodservice Distributors Association (IFDA) as an IFDA Partner. R3® is a leading North American redistributor of disposable operating products and related services to distributors in foodservice and other industries.
"We welcome R3®'s participation in the IFDA Partners Program," said IFDA president and CEO Mark Allen. "As an IFDA Partner, R3® will participate in the IFDA Partners Executive Forum, which is a focused opportunity for top-to-top strategic discussions with some of the industry's leading foodservice distributors."
While most IFDA Partners are foodservice manufacturers, the IFDA Partners Executive Forum is also an appropriate setting for discussions between redistributors and their distributor customers.
"We are very excited to become a member of IFDA," said R3® President Earl Engleman. "IFDA provides collaborative opportunities to share our best practices with many of our customers on a variety of foodservice distribution topics."
About R3®
R3 Reliable Redistribution Resource® (www.r3redistribution.com) supplies a range of products including food packaging, disposable supplies, and cleaning and safety products to distributors in the foodservice, janitorial/sanitation, industrial/safety and healthcare industries. Based in St. Louis, Mo., R3® focuses on increasing distributor profitability from more than 70 distribution centers throughout North America. R3® is part of Bunzl Distribution, the largest division of London-based Bunzl plc, an international distribution and outsourcing group publicly traded on the London Stock Exchange (BNZL).
About IFDA
IFDA's distributor members include broadline, systems and specialty foodservice distributors that supply food and related products to restaurants and other food-away-from-home foodservice operations. IFDA members operate more than 700 distribution facilities representing more than $110 billion in annual sales.