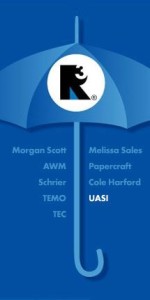 The UASI Story
United American Sales, Inc. (UASI) was founded in 1972 by Jack Sodini. The company, which began as regional manufacturer rep selling cutting tips to the welding industry, developed into the leading redistributor of safety equipment in the industrial market. To lead the redistribution enterprise while he concentrated on the rep agency, Jack brought son Joe on board in 1976. Tim Homan joined the team four years later, and both Joe and Tim acquired stock in the corporation in 1981.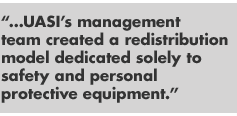 Up to this time UASI had focused primarily on welding products. In 1982 the company decided it was time to expand their business and took their first steps into the safety equipment industry by adding Uvex Safety Spectacles and Hunstmen Welding Helmets to their product offerings. These relationships were unique at the time as UASI was able to handle both as a regional rep and redistributor. However, as the company entered into the 1990's, the regional rep business volume began to decline while the redistribution business, which employed a marketing concept of using sports memorabilia and headliner stars such as Arnold Palmer, Ken Griffey Jr., Pete Rose, Gordie Howe and Decan Jones, enjoyed record growth.
In 1998 UASI became a true national redistributor with the purchase of wholesale welding company Independent Wholesale. This acquisition gave them locations in Houston, Texas and Los Angeles, California. After 27 years, Jack Sodini retired in 1999 and with him UASI's rep business ended. However, it was at this same time Ron Crosby joined UASI as National Sales Manager, and a new initiative was put in place. As the new century began, UASI's management team created a redistribution model dedicated solely to safety and personal protective equipment – filling the market place's need for a 100% pure redistribution safety entity. In their desire to reach even more of the market, UASI joined the R3 team in 2006.